Prairie Center Red Apple Market
Recipes
https://www.pcredapple.com/Recipes/Detail/9063/Coconut_Ginger_Radish_Greens_Soup_with_Radish_Chips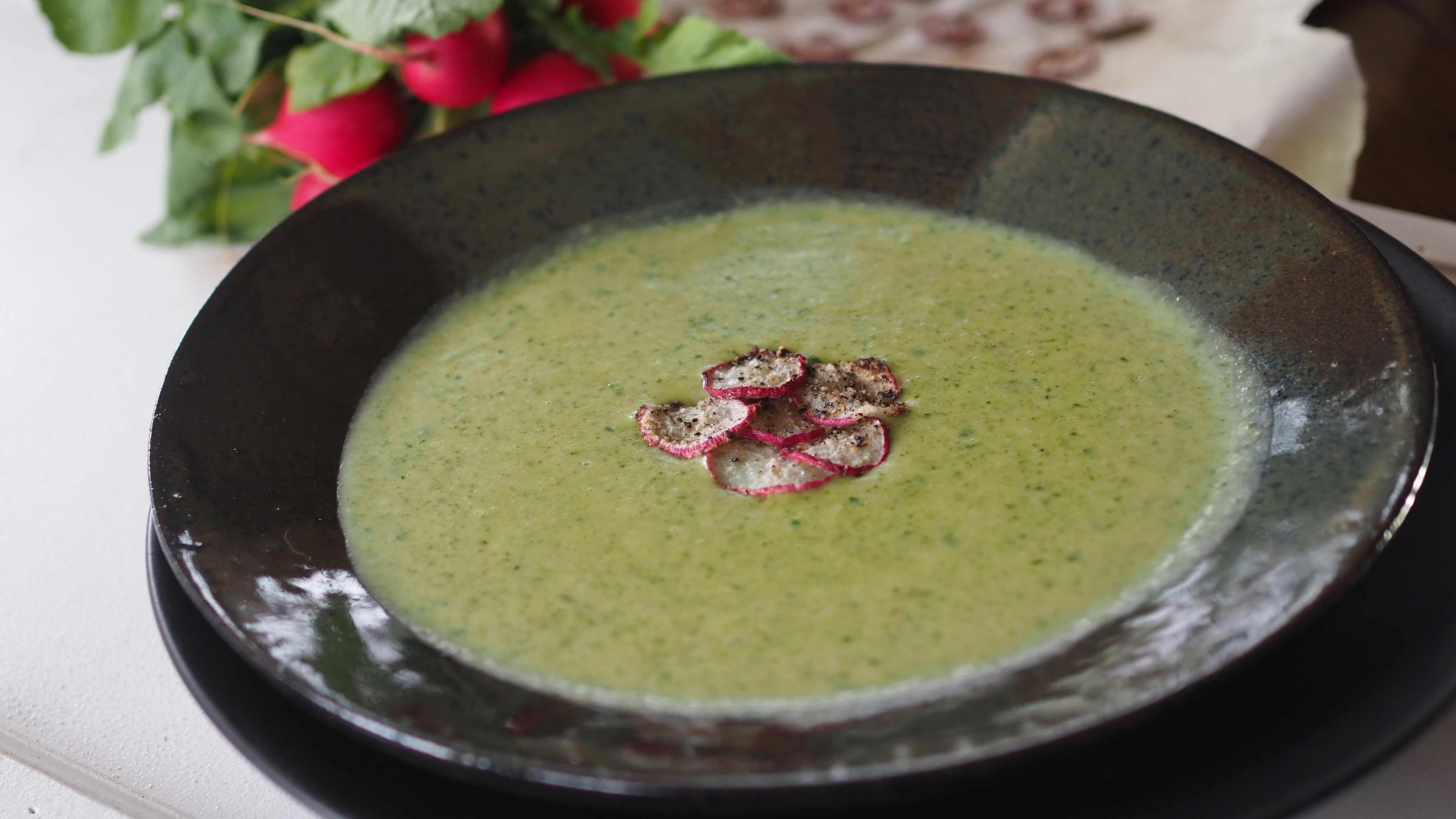 Coconut Ginger Radish Greens Soup with Radish Chips
Yield: 4 servings
Preparation Time: 10 min; Cook: 30 min
Ingredients
2
bunches

of radishes, greens attached

1
tablespoon

olive oil, plus 2 teaspoons

2

leeks, washed, trimmed, and sliced

1/2
inch

fresh ginger, grated

1
clove

garlic, minced

2 1/2
cups

coconut milk

2
cups

vegetable stock

1
cup

packed spinach, sliced

sea salt and black pepper
Directions:
Remove greens from the radishes. Wash thoroughly and set aside. Wash, scrub, and trim root ends of radishes; set aside. Stack radish leaves and slice into smaller strips.

Heat 2 tablespoons olive oil in a medium-sized heavy bottomed sauce pan over medium high. Add garlic, leeks, ginger and saute for 3-4 minutes. Stir frequently. Add the coconut milk, vegetable stock, radish leaves, and spinach. Reduce heat to simmer and cook for 10 minutes. Using an immersion blender, blend the ingredients well. Alternatively, transfer to a blender and blend in small batches.

Prepare radish chips by slicing radishes paper-thin with a mandolin slicer. Preheat oven to 350 degrees F. Place radish slices on parchment-lined baking sheet and coat with olive oil. Sprinkle with sea salt and freshly ground black pepper. Cook radishes in oven for 8-10 minutes.

To serve, plate warm soup and top with radish chips.
Photo and food styling by Webstop
Please note that some ingredients and brands may not be available in every store.
Prairie Center Red Apple Market
Recipes
https://www.pcredapple.com/Recipes/Detail/9063/Coconut_Ginger_Radish_Greens_Soup_with_Radish_Chips